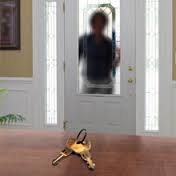 At First Call Locksmith we understand that being locked out your home can be stressful. We can definitely help you with that.
We hire only the best well trained and experienced technicians out there.
There are many reasons that can cause a house lockout and many ways to prevent it.
Here we have stated two of our highest recommendations to prevent a house lockout.
Electronic Security Systems
The first highest recommendation for you is to have an Electronic Security System installed.
This keeps you from locking yourself out, keeping your family and your valuables safe, and protecting you from intruders.
We recommend for you to do your research on different brands of electronic security systems to choose from and see witch is the best option for you.
After you have done your research, and you find the one that this is best for you to invest in, give us a call for home security installation advice.
Electronic Security Brands
Frontpoint
Link Interactive
Protect America
Vivint
SimpliSafe
Scout
Armorax
LiveWatch
Your Spare Key
Our second highest recommendation for you is to have a spare key, this can be very helpful.
Doing this means that you have something to fall back on any day you might have left your main key inside the house, from loosing it, and/ or simply miss placing it.
You can hide it under your mat, inside a plant or even give it to a trusted neighbor.
If you have your original key, just make some copies.
If you have lost your original home key, re-keying your lock is very simple and can be done within 30 minutes. You will receive new keys, without having to change your locks.
Our Team of professionals are on call and available 24 hours a day, 7 days a week. So please call now
(323) 518-1207!